Vacation scheme
Find out how a law firm works on our award winning vacation scheme.
Recruitment window now open
Our recruitment window opened on 1 November 2023 and closes on 31 January 2024.
Assessment Day – Friday 12 April 2024
The vacation scheme will take place for 2 weeks from 24 June to 5 July 2024 and we have six available spaces.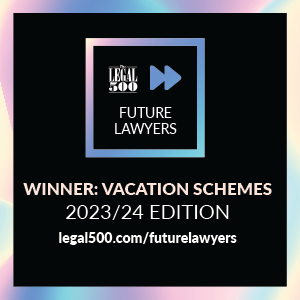 If you enjoy a challenge and want to know what life at a top law firm is all about, we have the right opportunity for you.
Designed specifically for ambitious undergraduates considering a legal career, you'll work across the business for a fulfilling two-week period.
We are proud to announce that our vacation scheme is award winning achieving a 100% score in the 2023/2024 Legal 500 – Future Lawyers survey.
What to expect
You'll experience three different practice areas, meet an extraordinary variety of people, and enjoy a unique insight into the work we do. It will be challenging but fun.
You will have the opportunity to learn from our lawyers and other professional staff. You'll conduct research that extends your knowledge of the law and present project work to our legal professionals. All with encouragement and honest feedback.
Placements are full time at our Tunbridge Wells office.
Am I eligible?
We welcome applications from law and non-law graduates.
To be eligible to apply you must at least be in the penultimate year of a law degree or the final year of a non-law degree.
How do I apply?
To be considered for our vacation scheme, please:
Please send your completed application form, and equal opportunities form to talentdevelopmentteam@cripps.co.uk
The deadline for applications is midnight on the 31 January 2024. Applications after this time will not be considered.
Please let us know if you need us to make any adjustments to the recruitment process to enable you to participate to the best of your ability.
How do we assess candidates?
Stage 1 – application form (deadline 31 January 2024)
Our assessment process starts with a thorough review of all application forms received.
We receive a lot of applications so here are some tips to help make your application stand out:
Make your application easy to read. Keep sentences short, make use of paragraphs and don't repeat yourself.
Keep it relevant. Do your research on Cripps. What are we looking for in our vacation scheme students?
Check your grammar and spelling. Attention to detail is a key skill for any lawyer. Proof read your application (or ask someone to do this for you) at least twice before hitting the send button.
 Stage 2 (final stage) – assessment day – Friday 12 April 2024
Approximately 20 candidates will be invited to attend the assessment day based on the quality of their application form.
Our assessment day will take place on Friday 12 April 2024 in our Tunbridge Wells offices.
Please make a note of this date in your calendar as soon as you submit an application to Cripps;  no other dates are available if you are unable to attend on this day.
All candidates attending the assessment day will be required to complete a psychometric test in advance which we will refer to when selecting the successful candidates.
At the assessment day, you will attend a competency based interview, complete a written exercise and also take part in a team building exercise.
Frequently asked questions
Contact us
If you have a question or need advice, please let us know how we can help.